Low EMF Healthy Home Design
EMF exposure is an issue of concern for many people, but low field homes can be created to minimize that exposure. This is an important element in a comprehensive approach to healthy home design. The planning stage for new construction is the perfect time to begin the application of field reduction strategies. Lower in-home levels can be achieved at far lower cost through this approach. Sometimes serious problems are built right into the house, requiring extensive and expensive corrections. We can work with your architect, builder, and electrical contractor to suggest alternatives and provide guidance in the design and construction of healthy homes.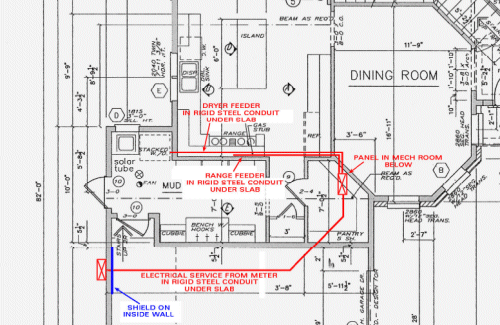 Plan Review and Markup
Our work is not intended to replace the extremely valuable services of a general healthy home design consultant, who can help you avoid the introduction of toxics and irritants, prevent the development of molds and other organisms, ensure sufficient air exchange, and provide adequate full-spectrum lighting. However, the thorough and comprehensive direction that we can provide goes far beyond the routine EMF guidance available from a good general consultant. We have direct, in-depth knowledge of electrical systems, and can interface effectively with your electricians using language that is familiar to them. Our electrical guidelines are comprehensive, yet practical, and will not scare your contractors away with unrealistic requirements that achieve nothing but frustration.
There is a lot of advice now available on the web regarding low EMF construction; most of it is good but none of it is complete, and some is actually wrong. The larger and more complex the house, the more important it is to employ a comprehensive and structured approach that is based upon an understanding of the issues, and not on speculation.
In the creation of a low EMF healthy home, we take a comprehensive but rational approach - one which looks to the health effects research for guidance in recognizing those exposure situations that are potentially detrimental. Significant long-term exposures can be created by electrical wiring errors, grounding problems, and inappropriate placement of electrical equipment. Low-EMF design avoids this possibility, and produces uniformly good results. Magnetic and electric field levels are often lower by at least a factor of 10. Home automation and communication systems, including Wi-Fi and Broadband over Power Line (BPL) technologies, are another potential problem area. Our full spectrum analytical approach will provide the ultimate in electromagnetic field protection.
All services are delivered by an IAEI certified electrical inspector or licensed electrical contractor, each with over 25 years of EMF consulting experience. We are, proudly, NOT the lowest cost service provider in this field. Broad-based knowledge, extensive experience, and guaranteed satisfaction always trump price.
Our Low EMF Home package includes these elements:

Preliminary Site Survey

To reveal the impact of any nearby electrical facilities or radio frequency sources. Total control is possible over potential in-home sources, but fields from power lines or nearby radio/TV and cell towers can be very difficult to overcome, making site selection a critical element.

Plan Review and Markup

Initial meeting with architect and builder. Specific guidance on placement of electrical equipment and feeders, and on selection of wiring methods and materials.

Detailed Recommendations for Electricians

Written guidelines on acceptable practices and common problem areas. Strict adherence to National Electrical Code is the starting point for our recommendations. Whenever possible, in-person support and demonstrations are provided to ensure a solid understanding of requirements. The most common problems, by far, are those that are created by electricians who are confident that their knowledge is complete, but who in reality lack a full understanding of code requirements and low-EMF wiring practices.

High Performance Grounding System Design

Specifications that utilize the building foundation as an extremely effective ground.

Plumbing System

Specifications for important plumbing system modifications.

Shielding Design

Specifications and installation instructions for any required shielding. If everything is done right, the need for shielding is often eliminated, saving substantial money and producing a better overall result.

Contractor Support

Ongoing dialogue with builder and electrical contractor.

Telephone Consultation

Full time availability for telephone consultation through the duration of the project.

Equipment Selection

Guidance in selection of low field lighting and home mechanical equipment.

Interim Site Visit

Recommended prior to the start of electrical work in large construction projects.

Project Verification Survey

Comprehensive analytical assessment following completion of wiring and power-up of house, to include written report.
Distance Consultation Option
Although often provided in-person for upscale custom homes, this package can be adapted to other projects at very reasonable cost. A distance option is available for homes where a construction site visit may not be feasible due to location or budget constraints. Prices start at $1,500 for a house up to 2,500 sq. ft. All the elements of our Low-EMF healthy home package described above would apply, except those that require a site visit. Loaner meters and special guidance are provided to assist the client in evaluating the electromagnetic conditions at a selected building site prior to construction. Contact us for additional information on this option.
Related Information:
Incorporation of Low-EMF Design Principles by Green Builders
Health Research Supporting the Creation of Low-EMF Environments
Not a Healthy Home
National Electrical Code® and NEC® are registered trademarks of the National Fire Protection Association.
---
EMF&nbsp SERVICES&nbsp LLC
845-276-9500


---
Site contents Copyright © 2018.